Top Canadian Betting Sites 2023
We review the best betting Sites in Canada
With the dozens of online betting sites operating in the Canadian market, finding the best sportsbook is like searching for a needle in a haystack. You have to sift through all the brands and carefully analyze them to find which one fits the bill. This process doesn't only wear you down, but it's also time intensive.
To save you the hassle, betyep.com has a team of betting experts who are more than happy to do the hard work for you. Our specialists have decades of experience in online sports wagering, so you can trust them to lead you to the best sites. We take our time to test all online Canadian sportsbooks individually, and provide you with detailed and unbiased reviews.
We also rate each website using a strict set of criteria. Our rating process is thorough, and it entails evaluating all aspects of a bookmaker. Not only do we scrutinize the odds and betting markets, but we also examine the licenses, bonuses, payment methods, and customer support.
In the next section, we will explain in detail the various factors we consider when rating the best Canadian betting sites. However, you should note that our website does not feature online Ontario sportsbooks.
How We rate Canadian Betting Sites
As we've already mentioned, we leave no stone unturned when reviewing and rating online Canadian betting sites. Our internet betting experts spend hours upon hours testing and comparing the websites to ensure that only the best make the cut. Here are some of the aspects and qualities we look out for when ranking the top sportsbooks in the country.
Blacklisted Online Canadian Betting Sites
Not only do we recommend the best betting sites for Canadian players, but we also blacklist any sportsbook that does not meet certain requirements. One of them is not being properly licensed and regulated. Such platforms can't be trusted with your hard earned money since they may keep your winnings. We also advise players to steer clear of websites with fishy cashout policies, dubious offers, and unresponsive customer support agents.
Below is a detailed list of the factors we consider when blacklisting online Canadian sportsbooks.
Top Online Canadian Betting Sites Compared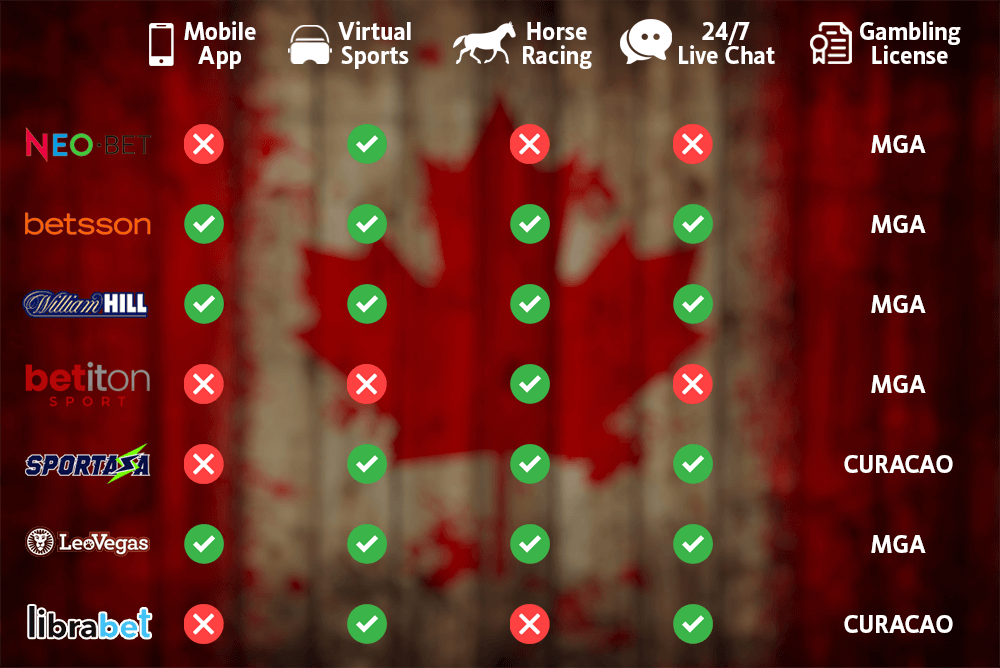 Top Canadian Betting Markets to Bet on
We've already explained that online sportsbooks Canada have wagering opportunities across multiple sports. However, traditional American sports like American football, basketball and baseball tend to attract more attention when it comes to betting in Canada. This is because the majority of punters are familiar with these sports, having played them in school and college. Besides, it's easy to follow events across these markets since they're widely covered by the media.
Here is an overview of the best sports to bet on and the most popular wagering options for Canadians.
Ice Hockey
Considered the country's national winter sport, ice hockey is by far the most popular sport for Canadians. All sportsbooks across the country offer an extensive selection of pre-match and in-play bets on the sport, giving you endless wagering options. The best ice hockey leagues to bet on include the National Hockey League (NHL), the American Hockey League (AHL), the Swedish Hockey League (AHL), and NCAA hockey. Popular bet types on the sport include moneyline, puck line bets, and over/under.
Soccer
The popularity of soccer among sports fans in Canada has increased significantly over the past few years. Not only do Canadians follow events in the Canadian Premier League, but they also enjoy watching and betting on competitions outside the country. These include the MLS, English Premier League, and UEFA Champions League. Some of the best bets you can place on the sport are 3-way money line, double chance, player props, half time/full time, and handicap.
American Football
American football is another major sport with a huge fanbase in Canada. Consequently, the sport is extensively covered by Canadian betting sites, giving punters a plethora of events to bet on. From the Canadian Football League to the NFL and NCAA football, you have more than enough events to wager on. Common betting markets in football include moneyline, point spreads (handicap), and total points.
Baseball
Baseball betting is another favorite pastime of Canadian punters. If you love the sport then we're pleased to let you know that there are loads of wagering opportunities on baseball events across all top Canadian betting sites. Some of the best competitions to bet on include Major League Baseball (MLB), Minor League Baseball, and College baseball.
Basketball
You can't go wrong with sportsbooks Canada when it comes to basketball wagering. Online betting sites in the country go all out to bring you a wide range of exciting bets on the sport. The best Canadian sportsbooks offer a wide range of basketball markets including the NBA, college basketball, FIBA Europe Cup, and the Australian NBL to name a few. Popular types of basketball bets include winner/moneyline, spreads, and total points.
esports
Gone are the days when Canadians were forced to turn to offshore sportsbooks for esports bets. Today, every legal betting site in the country has wagers on the market, and you can even live stream most of the events. Some of the most popular esports competitions to bet on include CS:GO, Dota 2, League of Legends, and Fortnite.
Other Markets
In addition to the markets listed above, online sportsbooks in Canada have plenty of bets on other sports and non-sport markets. From UFC to lacrosse, and rugby, there are tons of popular Canadian sports to keep you engaged. The top sites in the country also offer wagers on other games such as tennis, boxing, cricket, badminton, Aussie Rules, snooker, handball, and field hockey.
Our Top 3 Canadian Online betting sites
As earlier mentioned, singling out the best site for sports betting Canada is not a walk in the park. We review dozens of sportsbooks in the country, and they all have something unique to offer to punters. However, this doesn't stop us from highlighting the sportsbooks which ticked most of the boxes in our evaluation criteria.
Here are our top 3 Canadian online betting sites.
NEO.bet
NEO.bet is a cool betting site with a simple design and clutter-free layout. The platform offers bets on 20+ sports including basketball, soccer, ice hockey, and tennis. They also have a dedicated esports betting section with hundreds of pre-match and in-play betting opportunities. Some of the top esports markets to bet on include CS:GO, LoL, COD, and Dota 2.
NEO.bet holds valid licenses from the Malta Gaming Authority and Germany's Joint Gambling Authority. If you're looking for generous and exciting sports bonuses, NEO.bet is a good start. New Canadian customers who sign up at the sportsbook receive up to $CA400 in a welcome bonus on your first deposit.
LeoVegas
LeoVegas is a great sportsbook with plenty of sports to bet on, strong odds, and excellent offers. The operator is licensed in multiple jurisdictions including Malta, Ontario, United Kingdom, and Denmark. The site has an extensive sports menu with over 35 sports and alternative markets. You can view the selection by clicking on Browse Sports.
LeoVegas is easily the best Canadian betting site for mobile betting. The sportsbook has a mobile optimized site as well as dedicated apps for iOS and Android. In terms of promos, this sportsbook has a massive variety of bonuses for all customers.
Sportaza
Sportaza is your go-to Canadian betting site if you're looking for a wholesome experience. Not only does the operator offer sports wagering services, but they have a state-of-the-art casino, horse racing, and virtual sports.
The sportsbook section is packed with events across 40+ sports and alternative markets. You can place a wide variety of pre-match bets on these sports, or wait until kick-off to place live wagers. The in-play betting platform features tons of live odds, and there's a live streaming option for most sports.
The Best Canadian Sports Betting Offers and Promotions to Claim
Claiming a bonus is a great way of boosting your bankroll when you're betting on your favorite sport. As you scroll through our list of recommended Canadian sportsbooks, you'll notice that they have different types of offers and incentives for punters.
Some promos like the welcome bonus are straightforward and you don't need a lot of time to figure them out. You might also come across other types of offers which are not so common such as sports betting rebates. Below is an overview of popular Canadian sportsbook bonuses and a brief explanation of how they work.
Canadian Betting Deposit Offers
Deposit offers are by far the most common sportsbook bonuses available to Canadians. These promos give you extra money in the form of bonus funds when you make a deposit. Usually, the bonus money is a percentage of your deposit amount e.g 100% match up to $200.
Canadian No Deposit Bonus
A no deposit bonus is the best incentive you can find since it's free. As the name suggests, you don't need to deposit funds to a betting site to claim this bonus. The offer is mostly available to new players when they join a sportsbook. Usually, no deposit bonuses have high wagering requirements since they're free.
Free Bets
Free bets are another common type of promotional giveaways offered by online sportsbooks in Canada. The offer gives you a specified amount of money to use as a stake in any event. The bonus is available to both new and existing customers. When you're using free bets, it's important to keep in mind that you can only withdraw the return from your wager.
Sports Betting Rebates
When a sportsbook gives you a rebate bonus, they refund a percentage of the money you lose over a period of time. For example, the site may give back 10% of your net losses every Monday. Rebate bonuses are mostly awarded while betting horse racing. The bonus amount also tends to be higher than what you get when you claim a cashback offer.
Cashback Offers
Like rebates, cashback offers help you to cut your losses by giving back a percentage of the money you lose on bets. Usually, the amount is credited in the form of free bets, so you can't withdraw it. You have to wager the money on selected sports or betting markets in order to qualify to withdraw.
Enhanced Odds
Boosted or enhanced odds are promos where a sportsbook gives you better odds on select events. You can see the odds of the specified bet before and after the boost. Most Canadian betting sites offer enhanced odds on moneyline bets, over/under, and point spreads (handicaps).
Reduced Juice Promos
In sports betting, the term juice refers to the vig or vigorish commission. This is the commission a sportsbook takes from every bet you place in order to make a profit. If a site offers reduced juice lines on a market, it means that its commision on that wager is lower. You can use this offer to reduce your risks and save some money when you're betting on your favorite sport.
How to Sign Up at Canadian Betting Sites
Ready to start your online sports wagering adventure with the best sportsbooks in Canada? Here is a simple step-by-step guide to help you get started.
Online Canadian Sportsbook Payment Methods
Canadian bettors are literally spoilt for choice when it comes to sportsbook payment methods. Generally, the majority of players prefer credit cards and debit cards because of security and convenience. Credit and debit cards also support higher maximum limits for both deposits and withdrawals. Instant payment services like Instadebit and iDebit are also popular, followed by digital wallets. Examples of commonly used e-wallets are Skrill, PayPal, and Neteller.
The other common banking method is direct bank transfer. However, bank transfer transactions usually take longer to reflect when you make a deposit so you can't start wagering immediately. You'll also have to wait much longer to receive your winnings when you use this method to withdraw. The average withdrawal time for bank cards and e-wallets is 1 to 3 days, but bank transfers may take up to 7 days.
How to Deposit and Withdraw at a Canadian Betting Site
Depositing and withdrawing funds from a Canadian betting site is easy. All you need to do is to log in to your account and choose a preferred banking method for a seamless transaction. Follow these simple steps to top up your account or cash out from your online sportsbook.
Latest News
Canadian Betting Sites Payout Percentage & Odds
One of our top considerations when rating betting sites Canada is the quality of odds offered by the bookmaker. During the review process, our experts compare several sportsbooks to find out which site has the best odds. Put simply, odds represent the probability of an event happening. They can be expressed in three formats; decimal, fractional, and American format.
Furthermore, we also look at the payout percentage, anything above 90% is accepted as a decent payout. If it is below, then you should start questioning the bookmaker and their odds.
The common format used by online Canadian betting sites is decimal. This format is very easy to read, and you can tell the underdog and favorite just by looking at the odds. For example, if you place a $100 bet on a team with odds of 1.20 to win, your return will be $120 if it emerges victorious. This amount includes your original stake of $100 and $20 profit.
Canada Betting Legal Situation to bet online in Canada
The Canadian government banned all forms of gambling except pari-mutuel horse racing in 1892, and the criminal code remained in effect for close to a century. After many amendments, the country legalized sports betting and other forms of regulated gambling in 1985.
However, wagering on single games did not become legal until August 27, 2021, when Bill C-218 officially became law. The market is regulated by provincial governments, the Western Canada Lottery Corporation, and the Atlantic Lottery Corporation.
Since 2021, all Canadian provinces have legalized single-event wagering. The last province to roll out the market was Nova Scotia through the Atlantic Lottery Corporation. The jurisdiction joined the market in February 2021.
Of the 13 Canadian provinces, Ontario is the largest sports betting market. The jurisdiction has both offline and online sportsbooks, and in April 2022 it opened its online market to international operators.
Here is an overview of the current state of sports betting in the different Canadian states. Keep it here at Betyep for the latest legal betting updates. You can also trust us to only recommend legal and regulated sportsbooks.
Sports Betting Tips and Guides
Betting on games is one of the many ways to enjoy your favorite sports. Not only does it allow you to keep up with the teams you love, but you also stand a chance to win some cash while at it. If you're looking for tips to help you maximize your experience, then you're at the right place. Here are some useful tips from our team of online betting experts.
FAQ's
Are You Ready to Start Betting on Canadian Betting Sites?
Gambling on sports is fun, and you can make your experience even better if you go about it the right way. By this, we mean understanding the basics of sports betting and choosing the right sportsbook. Throughout this article, we've explained all you need to do to get started, and even recommend the leading sites in Canada.
Be sure to go through our list of top sports sites in Canada and select one of the sportsbooks for the best experience.