What is a Moneyline Bet in Sports Betting? Complete Guide
A moneyline bet is the easiest sports betting wager to understand, as it simply involves betting on the team you think will win the game. For most sports, this means that a moneyline wager has only two outcomes. However, there is a third outcome for sports where the score can be tied – for example, soccer.
In this guide, our experts will explain everything that you need to know about moneyline betting. Learn what it is, how to read the odds, and some tips and strategies in this guide right here at Betyep.
What is Moneyline Betting?
Alongside the point spread and the over/under line, the moneyline is the most popular wager in the US. Typically, you will find that the moneyline is displayed using American odds. For example, in an NFL game, you could find a moneyline bet shown like this: Bills (-205), Patriots (+170).
Moneyline bets work well for most US pro sports, including American football, basketball, ice hockey and baseball. Ties in all of these sports are either impossible or rare, meaning that the moneyline has two simple outcomes to choose from. However, in sports like soccer, where tied games are common, a third outcome is introduced. The three possible outcomes of a moneyline bet are as follows:
How to Read and Make Moneyline Bets
Understanding and reading the moneyline is pretty easy, especially as it is most commonly displayed using American odds. The favorite will therefore be usually shown at minus (-) odds, meanwhile, the underdog will typically have plus (+) odds.
If we refer to the example that we used previously, a bet on the Bills at -205 would require you to wager $205 in order to yield a $100 profit, should they win. On the other hand, a $100 bet on the Patriots as the +170 underdog would see you get a $170 profit if they were to win. You can find the three moneyline bets explained in more detail below.
Bet on Moneyline Favorites
The favorite on the moneyline is deemed by the bookmaker to have a higher implied probability of winning. As a result, you will find them being offered at shorter odds. While betting on the favorite gives you a higher chance of winning, your wager-to-profit ratio is less favorable, as you can see in the table below:
| ODDS | WINNING PROBABILITY | WAGER | POTENTIAL PROFIT |
| --- | --- | --- | --- |
| -110 | 52% | $100 | $90.90 |
| -150 | 60% | $100 | $66.67 |
| -200 | 67% | $100 | $50 |
| -250 | 71.43% | $100 | $40 |
| -300 | 75% | $100 | $33.33 |
Bet on Moneyline Underdogs
When you place a moneyline bet on the underdog, the lower implied winning probability means that the team is offered at longer but more valuable odds. You therefore stand to make more profit if your team wins, but the risk is greater. Longshot underdogs are best avoided when implementing a bankroll management strategy.
| ODDS | WINNING PROBABILITY | WAGER | POTENTIAL PROFIT |
| --- | --- | --- | --- |
| +110 | 47.62% | $100 | $110 |
| +150 | 40% | $100 | $150 |
| +200 | 33.3% | $100 | $200 |
| +250 | 28.6% | $100 | $250 |
| +300 | 25% | $100 | $300 |
Bet on Draws and 3-Way Moneyline
For certain sports, there is a third moneyline bet terminology to be aware of – the draw. In sports like soccer, where the score can be tied, you will find odds for three possible outcomes of the game. Here is an example of a three-way moneyline bet:
| RESULTS | ODDS |
| --- | --- |
| Team A | +750 |
| Team B | -250 |
| Draw | +340 |
Even or Pick 'em

A "pick 'em" or "even" moneyline occurs when the sportsbook sees the two teams as being evenly matched. As a result, you will find both teams being offered at the exact same odds – similar to a coin toss. In reality, this means that the implied win probability for each team should be 50%, which would make the odds -100.
However, the sportsbook will always add a charge for accepting your wager, known as the "vig" or "juice". As a result, the odds for either side are shortened slightly. For example, if you had a pick 'em in an NFL game between the Ravens and the Giants, both teams would most likely be offered at odds of -110.
How and Why Do Moneyline Odds Change
Moneyline odds do not remain the same as when they were first set. There are several factors that can result in the odds changing in favor of one team or the other. For example, injuries to key players may see a team's chances of winning reduced. Factors within the betting industry can also have an impact as well. All of the factors listed here can change the odds of a moneyline bet:
Market settings: The moneyline odds for a game are first created by a market-setting bookmaker. The majority of sportsbooks are not market setters, and instead just copy the opening odds of a market-setting bookie as a starting point.
Injuries and current form: In the lead-up to the game, injuries to key players can see the odds being reduced for one team and lengthened for the other. Additionally, if the initial favorite has a couple of bad results and the underdog hits a good run of form, the odds could change considerably.
Copy competitor's odds: Most bookmakers copy the initial moneyline odds from a market-setter. Additionally, some bookies may also continue to react to the market and change their odds to be more in line with those of their competitors.
Additional information about the teams: It's not always the on-field factors that can influence odds changes. Other disruptions within the team, such as disagreements between a player and the manager or private family matters can have a huge impact on the moneyline.
The bookie becomes more confident: A bookmaker may change the odds to make a bet more attractive in order to boost their profits. If they are confident that one outcome will win, they might change the odds accordingly.
The line closes when the game begins: As soon as the game starts, the moneyline closes and the odds at that point are final. You are now no longer able to place a bet on the moneyline. You can still bet on the game in-play, but this is something that we will cover a little later on.
How to Win Wagering a Moneyline Bet?
There are a few tips that you can use to increase your chances of winning on moneyline bets. First and foremost, the best moneyline bet strategy is to play the long game. Rather than trying to hit one big win, focus on building your bankroll over time with multiple modest profits and limited losses.
Heavy favorites are also best avoided. Betting on teams with odds shorter than the -300 mark requires large wagers in order to yield small potential profits. Although your loss probability is low here, you do stand to lose a lot more money in the event of an upset.
For example, if you were to bet on the Giants to win as favorites at odds of -300, a $100 bet would only see you win a $33.33 profit. In this instance, it's better to look at alternative markets, such as the points spread. If the whole spread looks too long for you, most bookies will allow you to change the moneyline by a few points. This will give you longer odds and in turn more value for your bet.
Where to Bet on Moneyline Sportsbooks Online
The Experts here at Betyep have a constant eye on the online betting market in the US. The main purpose behind this is to bring you the best sportsbooks and betting offers around. Below, we have selected the top three bookmakers for placing moneyline bets.
BETMGM
BetMGM is one of the most widely available sportsbooks in the US, as it is currently live in 19 states, including New York, Colorado and Maryland. The moneyline odds on football and the NHL are always among the best here, and you will often find odds boosters for specific sports and events.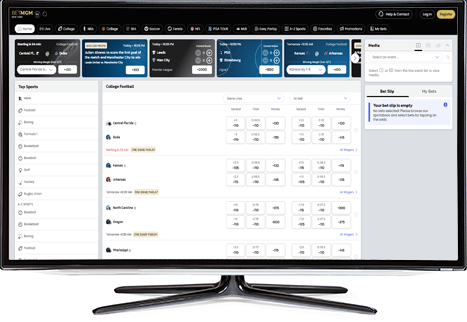 The current welcome offer at BetMGM is a risk-free bet of up to $1000. To claim this offer, you have to register an account, then deposit and wager between $10 and $1000 on a moneyline bet. If that bet loses, BetMGM will then refund the amount of your initial wager in free bet tokens.
You can fund your BetMGM account quickly and easily using VIP Preferred check, PayNearMe and PayPal, as well as most major credit/debit cards. Withdrawals can take up to five days to process.
PROS
No fees on withdrawals
Low minimum deposits
Same-game parlays available
User-friendly interface
Wide range of betting markets
CONS
Slow payouts
No phone support
Borgata
Borgata is an excellent sportsbook with great moneyline odds on the NFL, NHL, NBA and plenty more sports. For existing players, there's an excellent multi-sports parlay boost. This is a great offer if you want to bundle multiple moneyline bets into one wager.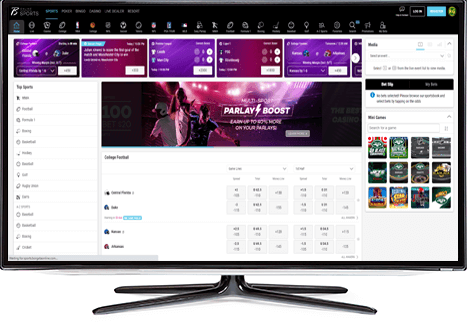 Before that though, there is the bet $20 get $100 welcome offer. To activate this bonus, you simply have to deposit and bet $20 on any sport at odds of at least -200. Once that wager has been settled, you will receive $100 in free bets.
When it comes to making deposits and withdrawals, Borgata accepts all major credit/debit cards, as well as the likes of Apple Pay, Skrill and Play+ cards. The minimum deposit and withdrawal limit here is $20.
Bet $20 get $100 in free bets
PROS
Mobile app
User-friendly site
Rewards program
24/7 live chat
Live betting
New customers only. Bonus is only for players from New Jersey. Bet $20 and get 2 x $50 free bets. Minimum deposit is $20. Minimum odds for each Qualifying Bet are -200 odds or greater (-200, -150, +150, +200, etc.). 21+ T&Cs apply www.begambleaware.org.
SUGARHOUSE
Sugarhouse is available for players in Pennsylvania and Connecticut, and offers great moneyline odds on the NHL and NFL. With the current new customer bonus, you can get a second chance free bet token up to the value of $500. This means that if your first moneyline wager loses, you will receive a free bet token worth the value of your initial stake.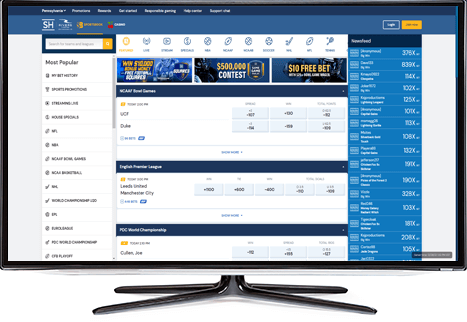 For existing customers, Sugarhouse frequently offers bet insurance promotions for parlays and props markets, such as the first TD scorer in football. When it comes to making deposits, all of the usual payment methods are accepted, including PayNearMe, Cash at the Casino Cage, credit/debit cards and online banking. For faster withdrawals, we recommend getting a Sugarhouse Play+ card.
PROS
Live streaming
Generous promotions
Mobile app
Fast payouts
Competitive odds
CONS
Casino focused
App issues
New customers only. Use bonuscode SPORTS. Place your first real money wager on any sports offering, no minimum odds. If your first bet loses, receive a Free Bet equal to your stake up to $500. 21+ T&Cs apply www.begambleaware.org
What Sports are the Best for Moneyline Bets
Moneyline bets work far better for some sports than they do for others. Furthermore, there are actually a few sports where the moneyline doesn't work at all. Below, we have highlighted the most popular sports for moneyline betting and have explained how it works.
Soccer
Soccer is one of the few sports where three-way moneyline bets are possible. The added outcome of the draw gives you more options to choose from and can make it easier to find value for your bets. Because of the three outcomes, soccer is one of the few sports where you can find the favorite being offered at plus (+) odds.
Ice Hockey
Hockey is a relatively low-scoring sport, however, in the vast majority of games, both teams will manage to put the puck in the net. This makes the points spread pretty slim but often means that the odds on the moneyline are less expensive. It is rare to find extreme odds-on favorites or rank outside underdogs on an NHL moneyline. This means that the implied winning probability is usually much better balanced here than it is for other sports.
Basketball
The NBA has one of the highest underdog win rates, with the lesser-ranked team winning roughly once in every three games. NBA games come thick and fast throughout the season, and so your chances of hitting an underdog winner are higher with basketball than most other sports. Additionally, it also means that NBA moneylines typically have more valuable odds overall.
American Football
Football games only take place once a week during the NFL season, meaning that a lot can change in the lead-up to each contest. If you study the teams and betting markets well, you might have a chance of beating the bookies to a good price with an NFL moneyline. Also, as the regular season is only 17 weeks long, you can budget to bet on more games.
Pros & Cons Betting with Moneyline Bets
PROS
Simple to understand
Low-risk for some sports
Good odds on sports
Included in most welcome offers
Easier to win than other bets
CONS
Mostly small profits
Expensive odds for favorites
Underdog wins are rare
What is the difference Between Moneyline and the Point Spread?

A moneyline bet shows you the most realistic probability of what will happen in the game. With the point spread, the sportsbook balances out the contest by taking points off of the favorite and giving points to the underdog. Because the game is now balanced out, the odds for each outcome are usually the same – typically -110. An example could be as follows:
Bills -4.5 (-110)
Patriots +4.5 (-110)
If you were to bet on the Patriots as the underdog, your bet can still payout in the event of them losing, so long as they stay within 4 points of the Bills. For the opposite bet, the Bills would need to win by 5 or more points.
The main advantage that the points spread holds over the moneyline is that you stand to win a much better profit when betting on the favorite. On the other hand, it also reduces the risk of an underdog bet. The points spread is an overall better option for high-scoring sports such as football and basketball, where large points gaps are common.
For low-scoring sports, such as ice hockey, baseball and soccer, large points gaps are rare, and so the moneyline is usually the better choice.
Moneyline Live Betting
Live betting involves placing a wager while the game is actually happening. Most sportsbooks will also have a cashout feature that allows you to settle your bet for a proposed price before the game has ended.
Top Moneyline Live Betting Sportsbooks
The moneyline is a good option for live betting as you can often find value in bets if you react quicker than the sportsbooks based on what is happening. However, as the live odds are constantly moving while the game is going on, it's best to wait until there is a break in play before placing your bets – such as halftime or a time-out.
Moneyline Bet – Conclusion
To summarize, moneyline bets are simple to understand and can offer great value in some cases. We like moneyline bets, and it is our go-to bet for many sports, including ice hockey, soccer and baseball. Now that you have the concept of the moneyline bet explained in full, the next step for you is to select a bookmaker and place a bet.
Our number one recommended sportsbook for moneylines is BetMGM, who are currently offering a risk-free welcome offer worth up to $1000. Alternatively, you can try out moneyline bets free by signing up for our monthly betting tournament here at Betyep. Here, you also have the chance to win real money prizes.
FAQ's
The moneyline is the simplest type of bet there is. For most sports, you have the odds for two outcomes – Team A or Team B to win. A third outcome – the draw – is introduced in some cases. 
This is an example of American odds and it means that if you bet $100 on this outcome your potential profit would be $200. However, such odds would only ever be offered on the underdog, and the win probability here is 33.3%.
It depends on the sport and game that you are betting on – with balanced contests being better for the moneyline. Essentially, it's best to avoid heavy favorites and low-ranked underdogs. In cases where the contest is unbalanced, the points spread is a better option.
In theory, winning a moneyline bet is simple, as you just need to select the winner of the game correctly. However, doing this is easier said than done, which is why we recommend that you check out the moneyline betting guide here at Betyep.
Although moneylines with negative odds will result in smaller payouts and profits, their winning probability is higher. It can therefore be worthwhile to place a bit with slightly longer negative odds, such as -110. Here your win probability is 52% and your potential profit is 90.9% of your stake.
Did you like what you read?
If you want to bet on sportsbooks outside the States, we have a dedicated section for UK bettors. You can read about UK betting, claim a UK bonus, and benefit from other perks. Moreover, we have a dedicated section for International sportsbooks, offering information and legal advice on betting in, and outside Europe.
Read Our Other Guides!