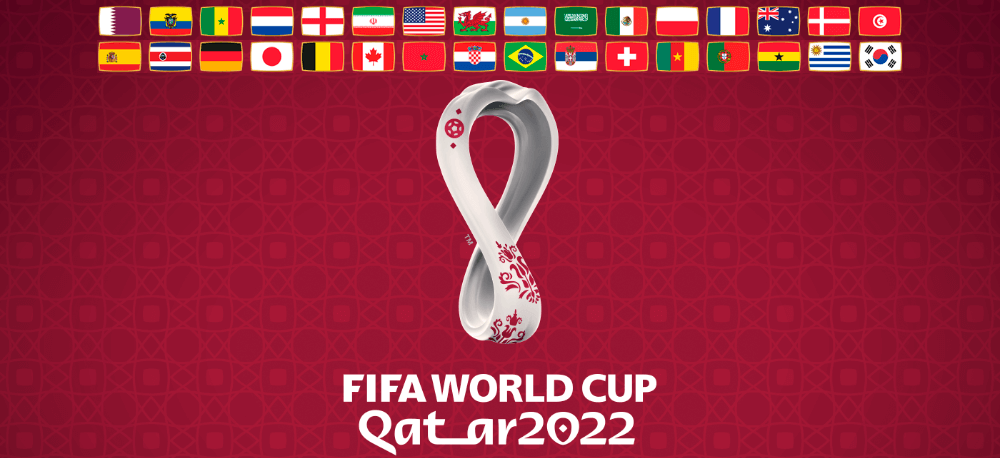 The Official Qatar World Cup 2022 Betting Guide
Are you looking to bet on the World Cup but not sure how? The much-awaited tournament kicks off in Qatar on the 20th of November, and this Qatar World Cup 2022 betting guide will help you be prepared for all the action.
Here, we'll reveal all you need to know about wagering on the momentous event, including how the tournament works. You'll find exclusive World Cup betting tips, info on markets, odds, predictions, the tournament schedule, and more.
Note: This page will be updated throughout the FIFA World Cup Qatar 2022, so stay tuned on the latest predictions and match reports from our Betyep experts!
Last updated: 21-11-2022
Qatar World Cup 2022 – When and Where?
The 2022 FIFA World Cup is the 22nd edition of the iconic football tournament and all roads lead to Qatar. 32 nations from across the globe will be gunning for the coveted golden football trophy.
Initially, the 2022 FIFA World Cup Qatar was scheduled to start on the 21st, with Senegal and Netherlands set to headline the event. However, the first match was moved a day earlier to allow the host to play the first game. Qatar will take on Ecuador on the 20th of November at the Al Bayt Stadium in Al Khor, just north of the capital of Doha.
The explosive Qatar World Cup knockout stage will commence on the 3rd of December, with the final being held on the 18th. The top 16 teams will battle it out in knock-out stages until only two remain.
Who will be in the final remains to see. But after not losing one single match in the WC qualifiers and winning the group with 45pts, the star-studded team of Brazil may have finally regained their mojo. They are heavily backed by punters to win the World Cup, after a 20 year wait.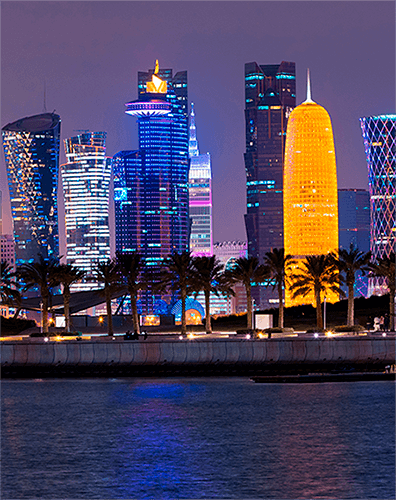 FIFA World Cup Qatar 2022 – Latest News
Where Do I Find the Best World Cup Qatar 2022 Betting?
Your Qatar World Cup betting experience will only be as good as the betting site you join. You could spend hours conducting trial-and-error scouting for the right bookie, a route less likely to be fruitful.
Or, you can go with the well-thought-out recommendations highlighted in our World Cup 2022 betting guide. After considerable research, we've lined up the top sports betting platforms worth signing up to.
All bookies listed in this Qatar World Cup 2022 betting guide impress with generous odds and comprehensive betting markets. Most of them offer over/under goals, one of the most popular football markets that are relatively easier to predict. But, the outright winner is always the favourite among seasoned football fans.
Top World Cup Qatar 2022 Betting Markets
Bettors can wager on football in a number of different ways. This Qatar World Cup 2022 betting guide outlines how some of the most popular ones work. You can then pick betting markets that align with your gambling preferences, experience, and finances.
Goals
Goals-based markets are pretty diverse and involve betting on the goals scored during a match. For example, you can predict the scoreline or total number of goals. Bettors can also predict whether both teams will score. These markets typically have decent odds. They are also easy to predict compared to other markets outlined in this Qatar World Cup 2022 betting guide.
Corners
Not a fan of predicting winners or team scores? You may find corner bets more compelling. It's a unique market where you predict the number of times a team will be awarded corner kicks in a match. Corners and similar Qatar World Cup betting markets are quite challenging to predict but typically have higher odds.
Top Scorer
If you know football trends like the back of your hand, you should consider placing Top Goal Scorer bets. Here, you're betting on the player to score the most goals in a match or the entire tournament. In addition to following other tips mentioned in our Qatar World Cup 2022 betting guide, you'll need to research player stats and each team's current performance.
Outright Winner
The outright winner bet is the most popular Qatar world cup betting market. As the term implies, you're betting on which team will become the World Cup 2022 winner. Since this wager requires a team to win after playing numerous matches, the odds are high, especially during the knockout stages in-play.
Group Winner
If predicting the World Cup 2022 winner is a tall ask, you can scale it back and bet on the Group Winner. As you'll find in subsequent sections of our Qatar World Cup 2022 betting guide, there are 8 groups in the tournament, each with four teams of different strengths. As such, you have plenty of chances to make a correct wager.
Over/Under
Over/under bets markets are ideal if you're looking for a less-specific market. On the other hand, some markets might be a bit tricky, like betting on ball possession. Other popular over/under markets that are popular among punters are the total number of goals, fouls, shots on target, or any other statistic that is predicted by the bookie. If you are looking for excitement, this market is the one.
Qatar World Cup 2022 Odds
Quality odds translate to more wins and higher payouts. After searching the internet the following bookmakers came out tops with the highest outright winner odds.
| | | | |
| --- | --- | --- | --- |
| | | | |
| | | | |
| | | | |
| | | | |
| | | | |
| | | | |
| | | | |
| | | | |
| | | | |
| | | | |
World Cup 2022 Predictions
While compiling this World Cup 2022 betting guide, we took the time to carefully study each participating team. Netherlands will likely win group A, whilst in group B, England looks like to come out on top. In group G, Brazil is looking strong, and Portugal and Uruguay are potential winners in group G.
Here's a breakdown of our group World Cup 2022 predictions, covering each group and the final winner.
Group A
Teams: Qatar, Ecuador, Senegal, Netherlands

Paired with heavyweights like Netherlands and Senegal, it's not looking good for Qatar. The team has the weakest squad on the paper. On the contrary, we won't be too quick to write them off because it's not uncommon for host teams to cause major upsets. Ecuador drew with both Argentina and Brazil in the qualifiers, so they may stand their ground, ending third in the group.
Senegal is a renowned team that boasts a star-studded lineup featuring big names like Kalidou Koulibaly, and Édouard Mendy. Unfortunately, Sadio Mane is injured, so at its best they will finish second, while the Netherlands will win the group. The Louis Van Gaal-led team holds the record for the most World Cup final appearances without a win. With players like Denzel Dumfries in the defense, Frenkie de Jong in the midfield, and Memphis Depay up top, what can go wrong?
Group B
Teams: England, Iran, USA, Wales

A tough group in our Qatar World Cup 2022 betting guide that we only see one team win – England. Gareth Southgate has a lot to prove, but the English team has been outstanding and are by far the best team in the group, and might even clinch the trophy. However, we should not count out the Americans. The Yanks have probably the strongest team ever, with Chelsea's Christian Pulisic and Giovanni Reyna from Dortmund in the attack.
The USA team will likely take second place in this group, followed by Wales. The Welsh have only qualified twice, but during the EURO 2016, the team reached the semi-finals. So it's no surprise that Rob Page managed to take his team all the way to the Qatar 2022 World Cup. Iran should finish last in this World Cup Group B.
Group C
Teams: Argentina, Saudi Arabia, Mexico, Poland

Argentina have already won the World Cup twice and haven't lost a match in 2022. With players like Angel Di Maria and Lionel Messi performing at their best, we believe this team gives them a real shot at winning. Second place should be Mexico. While the team is not packed with stars, there is still quality with top players to look out for like Edson Alvarez (Ajax), and Santiago Gimenez (Feyenoord). Both are dangerous in the midfield as well as going forward.
Poland's star striker and team captain Robert Lewandowski is reaching the end of his career and the team hasn't been playing too well. The team will also likely come out third, whilst the Saudis should end up last in the group. Unless their star player, Salem Al Dawsari, chips in some goals.
Group D
Teams: France, Australia, Denmark, Tunisia

Having won the World Cup in 2018, France are clearly the World Cup 2022 favourites in this group. With Antoine Griezmann and Kylian Mbappe, France has two of the best attackers in the world. Denmark is a close second after displaying a brilliant performance at the EUROs last year. The team also has excellent players like Simon Kjær and Christian Eriksen.
With Al-Ettifaq's Naimi Slit at the helm of the Tunisian team, we expect the squad to perform very well. Australia completes the group and has reached the World Cup finals six times. But after narrowly making it out of the qualifiers with one win and three draws, the team will finish fourth place in this group.
Group E
Teams: Spain, Costa Rica, Germany, Japan

Spain has the youngest team in the tournament in terms of average age. Under the guidance of their manager, Luis Enrique, the Spanish have made unbelievable improvements, only losing one of their last ten engagements. If that's not enough, the team is complete with star players like Pedri, Rodri, Gavi and Ferran Torres.
Germany are prolific winners, having clinched four World Cups. But due to the past failures in recent years, Germany is a bit of a wild card. Nonetheless,it for sure looks promising with Manuel Neuer in the goal, and Nico Schlotterbeck and Antonio Rudiger in the defence. Moreover the Germans have Kai Havertz and Timo Werner up top. Costa Rica and Japan will fight for the third and fourth place, whilst the winner should be either Spain or Germany.
Group F
Teams: Belgium, Canada, Morocco, Croatia
Group F is probably the most competitive group in the whole World Cup Qatar group stage. Belgium should win this group just before Croatia and Canada, and fourth place should be Morocco. On paper, Belgium looks fierce with Thibaut Courtois in goal, and Kevin De Bruyne, and Eden Hazard as midfielders. Croatia were runners up at the last World Cup after losing against France, making them second in the group.
Canada and Morocco will fight for the third and final qualification to the knock-out stages. In addition, both teams looked strong after decent performance in the qualifying rounds, but will likely finish bottom of the group.
Group G
Teams: Brazil, Serbia, Switzerland, Cameroon

Our World Cup 2022 betting guide can confirm that Serbia has only lost twice in its last 8 games (10-27-2022). They also did brilliantly in the European Qualifiers, making Portugal qualify via the playoffs, so there's hope. By contrast, Switzerland hasn't been playing too well, with more losses and draws than wins. With players like Manuel Akanji, Granit Xhaka, and Denis Zakaria, a second or even a first place in the group is possible.
Cameroon is unmatched in the African continent, but it's far from its former glory. The team may not fare well as the standard of group F is high. Brazil has had terrible World Cup performances in the recent past, but today, they are performing well, winning the qualifiers just ahead of Argentina and Uruguay. The team has one of the most starry line-ups in the tournament. With Alisson Becker and Ederson in goal, and Neymar Jr, Gabriel Jesus and Vinicius Jr leading the line, Brazil has everything it takes to win the World Cup.
Group H
Teams: Portugal, Ghana, Uruguay, South Korea

Portugal is the most likely to win this group. As this is his last international tournament, we're expecting Ronaldo to put on a stellar performance. The team also in general are performing well. So, we don't expect any surprises unless Bruno, Cancelo and Ronaldo get injured or suspended.
Among the World Cup 2022 favorites, and most likely to finish second in the group we have chosen Uruguay. The team has won 7 of its last nine games, only losing one to Iran and drawing with the USA. Plus, it has a youthful team led by veteran players like Luis Suárez and Edinson Cavani. Ghana and South Korea are the minnows in this group. But make no mistake, both teams are capable of winning games against any team on their best days.
World Cup 2022 Qatar In-Game Betting
Forget 2022 World Cup pre-game wagers. Placing bets while matches are live is where the fun is. In-play betting is quick-paced and exciting. Odds change frequently based on what happens in the game, so you'll need to make your predictions fast.
Instead of stats and numbers, you'll have to rely on intuition to make the right call. In addition to adding more thrill to your betting experience, Qatar World Cup 2022 in-play betting provides more accurate odds. You are able to place a wide range of in-play wagers, including:
Next goalscorer
Team to score next
Time of next goal
Team to win next half
Next corner
How Does the World Cup Work?
In previous sections of this World Cup 2022 Qatar betting guide, we mentioned that 32 teams are competing in the tournament. These are divided into eight groups of four, playing from the 20th of November up to the 2nd of December.
Three matches will be played in each group stage, and the winners and runner-ups will make their way to the round of 16. The qualifying teams will play each other in a knockout format, and if there's a draw, the match will go to extra time, and then penalties.
Four teams from the quarter finals will qualify into the semi-finals. The two matches will happen on the 13th and 14th of December at the Lusail Iconic Stadium in Lusail and Al Bayt Stadium in Al Khorm, respectively.
The final between the two last standing teams will take place on the 18th of December at the Lusail Iconic Stadium, in Lusail.
Find below a list of teams to qualify in each continent as picked up by our World Cup 2022 betting guide:
| | | |
| --- | --- | --- |
| | | |
| | | 4.5 (not including host nation) |
| | | |
| | CONCACAF (North and Central America and the Caribbean): | |
| | | |
| | | |
World Cup Key dates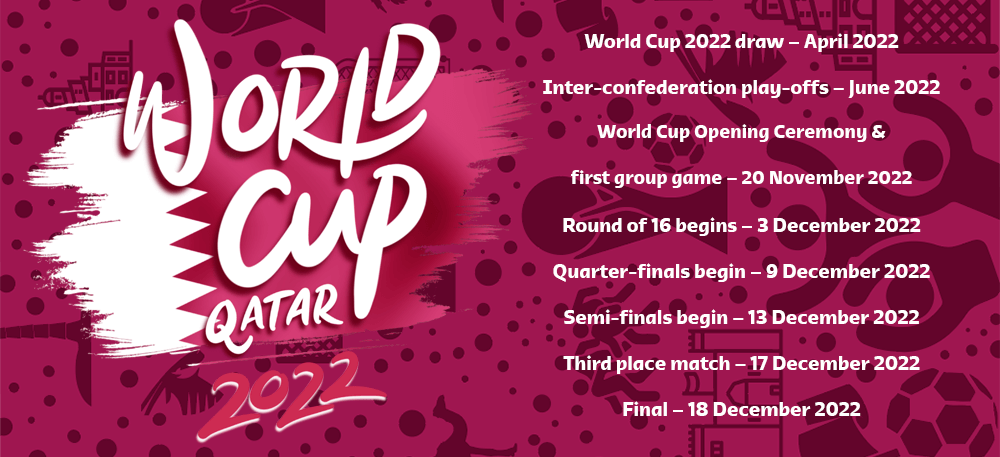 World Cup 2022 Awards
Aside from the Qatar World Cup 2022 title, several individual awards are up for grabs. By scoring the most goals players can win the golden boot, or win the golden glove by performing best as a goalkeeper. Players can also engrave their names in the history books by winning the following awards:
The Golden Ball
Launched in 1982, the Golden Ball award is presented to the most outstanding player in the tournament. At the FIFA 2018 World Cup, Luka Modric won the award, and in 2014, legendary Argentinian striker Messi lifted the trophy.
The Golden Glove
Goalkeepers have an opportunity to outshine themselves in hopes of landing the Golden Glove award. This award recognizes the person responsible for holding the last line of defence in the tournament. Spain's Iker Casillas won the award in 2010 after conceding only 1 goal from the team's 7 matches. The Belgian keeper, Thibaut Courtois, also won this award in 2018.
The Golden Boot
The player who scores the most in the 2022 FIFA World Cup will  walk away with the Golden Boot Award. Before 1994, the award was shared among multiple top scorers. However, the system was revised to only award one definitive winner. England's Harry Kane won the Golden Boot in 2018 after scoring 6 goals in the tournament.
The FIFA Fair Play Trophy
The FIFA World Cup isn't all about goals and wins. Model behaviour is expected from players on and off the field. As such, FIFA designed an award that recognizes exemplary fair play from a player, coach, match official, team, or even fans. The Denmark team and medical staff received this award in 2021 after responding heroically when Christian Eriksen collapsed during a match.
The MVP of the Final Match Trophy
The award recognizes the most valuable player in the World Cup final game. It seeks to validate the individual's efforts where performance, excellence, and exemplary behavior are concerned. In the World Cup in 2018, Antoine Griezmann got his hands on the award after scoring the second goal in the final against Croatia.
Expert Tips for Betting on the Qatar World Cup 2022
Betting on sports is fun but certainly not easy. You can, however, give yourself a better chance of winning by reading our handy World Cup betting tips. In this section of our World Cup 2022 betting guide we have listed 5 important tips for beginners to boost your winning odds.
World Cup Betting Promotions
Most bookies in this Qatar World Cup 2022 betting guide offer exciting bonuses and promotions. For example, when used optimally, a welcome bonus immediately boosts your bankroll. Boosted odds promos, on the other hand, increase your potential payout.
Use World Cup Statistics
You have a better chance of placing successful wagers if you base your decisions on quantifiable data. Avoid placing blind wagers and rather analyze each team's previous performance and current player strengths. Always gather information such as a team's detailed winning or losing streaks. You should also consider injuries, suspensions, as well as consistent goal scorers. Moreover, you can take a leaf from our World Cup Qatar 2022 betting guide's playbook.
Place Accumulators
Placing accumulator wagers creates opportunities to win massive payouts. Instead of betting on separate events, you can wager on multiple events in the World Cup at the same time. The only catch is that all bets in the accumulator wager must be spot on to win.
Watch the Games
Some sportsbooks outlined in this World Cup 2022 betting guide allow bettors to stream games live. The benefits of this feature go far beyond the entertainment aspect. Watching games live will show you if the team you're backing is on the right track. You'll also get a chance to perfect your pre-match predictions on the next match.
Use Cashout
The cashout feature allows you to pull the plug on wagers before a match ends. So, if you feel unsure about whether or not your bet will pay out at the end of the game, you can claim a partial payment. You will get less than the full potential win, which isn't entirely bad.
Bet on what You Know
Sticking to what you know is a timeless strategy any seasoned bettor swears by. Sports betting is risky enough, so you don't want to add experimental wagers to the mix. By focusing on one team, you have a higher chance of picking up something the bookies missed and capitalizing on inaccurate odds.
Who Will win the Qatar World Cup 2022
As we round up our World Cup 2022 betting guide, it sure looks like Brazil, France, and England are the top contenders to win the trophy. If we were to pick one team, it's Brazil. The team has a stars-studded squad with the best players in the world, including Alison Beckker and Ederson in goal, as well as top attackers that are able to score on any given chance they get.
The Samba boys Vinicus Jr, Neymar and Gabriel Jesus are just some of the players to watch out for. In addition, they topped the World Cup qualifiers group with 45 points, and recently they played convincingly well in the World Cup warm-up against Ghana and Tunisia.
To enjoy the best wagering experience, sign up with any of the sportsbooks listed in our World Cup 2022 betting guide page today!
FAQ's
According to our experts, we have put our wager on Brazil to win the World Cup Qatar. France and England are also top contenders. But with Brazil's current squad, the team will be difficult to beat.
Our World Cup 2022 betting guide gives you multiple ways to wager on your favorite teams. You can decide to place over/under, corner bets, goals, outright winners, or top scorer. The market you choose should depend on your level of football knowledge and interests. 
Using sports tips won't necessarily guarantee you winning wagers, but they'll increase your winning chances. Key World Cup betting tips to consider include using stats to make sound decisions and placing accumulator wagers to boost your payouts. Utilizing promotions offered by bookies covered in our World Cup 2022 betting guide should also work in your favor.
Several factors make up an outstanding bookmaker for the World Cup 2022. Look for a sportsbook with generous promos, an impressive list of betting markets, and great odds. The bookies listed in our Qatar World Cup 2022 betting guide offer these and other features.
Absolutely! You can settle a wager before the event ends, whether it's winning or losing. You simply have to choose a sportsbook that provides such an opportunity. Betsson, William Hill and a few other bookies listed in our Qatar World Cup 2022 betting guide are good examples.
Other FIFA World Cup Qatar 2022 Publications